Uma
The magical Uma Unikum Sweater is a soft, natural and chunky friend for life, and it deserves some explanation, since this is the slowest beauty of them all.
It is a tribute to authentic craftsmanship, made entirely from scratch. The raw wool is hand carted, and the yarns are locally spun & knitted. 
Playing only with the original colours from the animals, it is mixed from the finest materials from different sheep, alpacas and the Samoyed dog, whose fibres gives a soft glow beyond beauty. 
The limited yarns are made exclusively by our in-house yarn magician Per, and every sweater is completely unique. We give them names that fit their colour palette and "personality", and often refer to them as "friends".
How to order
When you sign up for a sweater, you are on a waiting list.  As soon as you are the first in line, the next sweater available will be yours if you choose it. We will send you pictures, and sometimes you will have options to choose from. If you choose one, it will be sent to your home with 48 hours to make a final decision. 
If you choose to send it back you will still keep your place on the list until the next sweater will be offered to you. As no 1 in line you will keep getting the next Uma at your first choice.
The sweaters are all different, and we cannot control which colours and combinations that will be final output. This is part of its charm.
If you live in or nearby Copenhagen it is always a good idea to stop by and have a try.
Uma is a pre-order and half the amount is payed when placing the order - the rest when you have a keeper in your closet.

You can order it here
The waiting game
We do our very best to process the Uma Sweater keeping a natural and respectful pace to the time that it takes. The waiting time can be up to 6 months, but sometimes there is a loophole and the time will not be that long at all. We keep in touch as long as your order is running.
Gallery
Enjoy a selection of Uma handcrafted  slow beauties....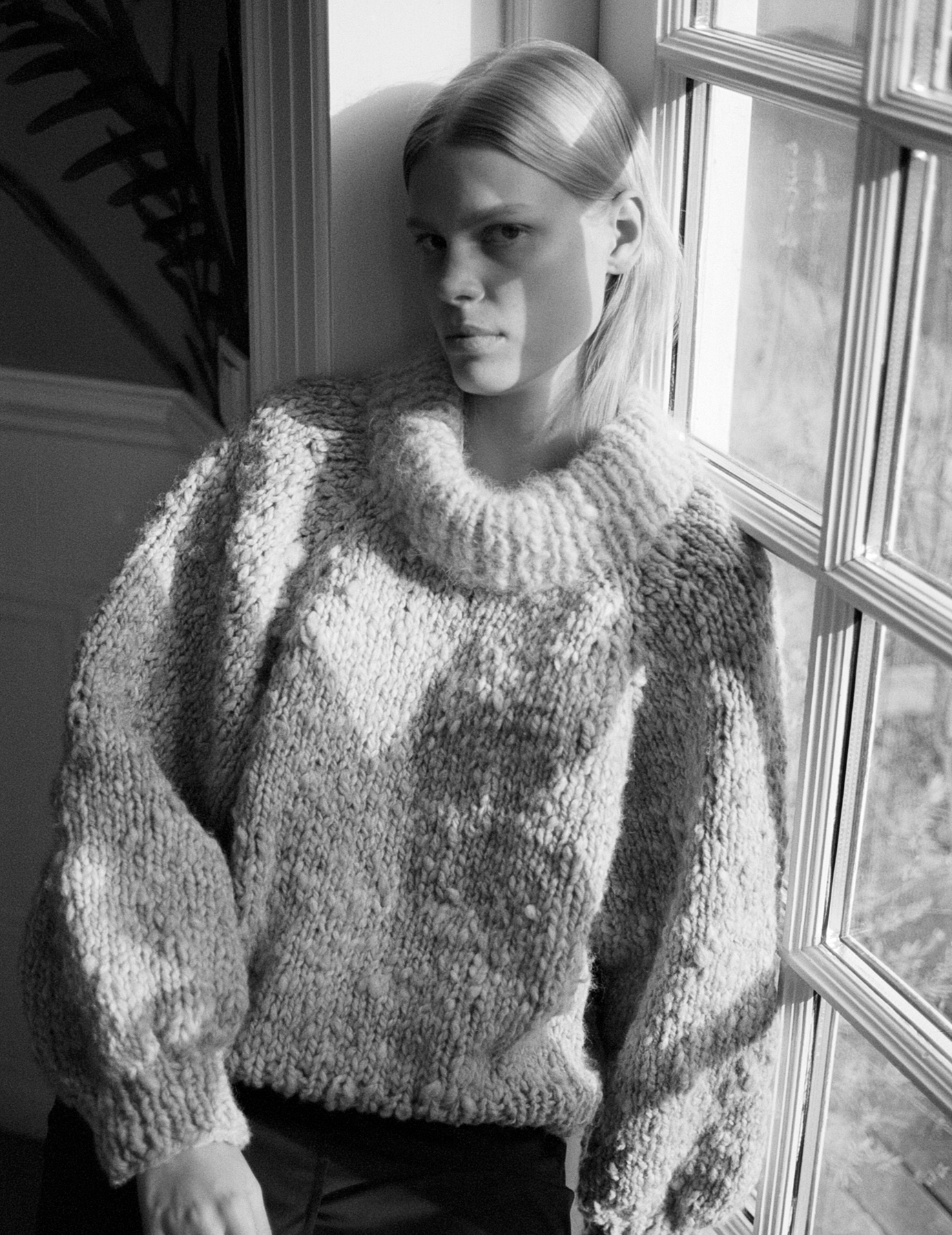 Original Spinning Wheel in the hands of Per
Uma Sister
Uma Sister is a cute sibling to Uma Unikum. 
The wool comes from only one sheep breed, the Blue Faced Leicester Sheep and is machine carted, which is why it has it´s naturally soft solid off white color. It is incredibly soft.