"We ended up having reduced our belongings to what could be stored in 15 packing cases. That done, with 3 suitcases we moved to Barcelona in a furnished apartment".
- Johanne Landbo 
Returning to Thy in Northern Jutland  
Thy is the place where I grew up and spent most of my life before moving to Copenhagen, the city where my husband, Lukas, grew up.  
Having lived in a terraced house in the northwestern part of Copenhagen, where we had our daughter, Magda, we decided to move on and try something else. 
We sold a large part of our possessions and made very considered choices as to how much of what remained we should let go of. 
We ended up having reduced our belongings to what could be stored in 15 packing cases in a 5 m2 – depository in Brøndby. 
That done, with three suitcases we moved to Barcelona in a furnished apartment. 

Johanne in her home wearing Leonora Shorts and Uma Unikum Sweater.
Already in Copenhagen I started being very attentive as to the amount of things that found their way into our house. 
When something did, I was keen to find out about its quality and the craftmanship used in its production.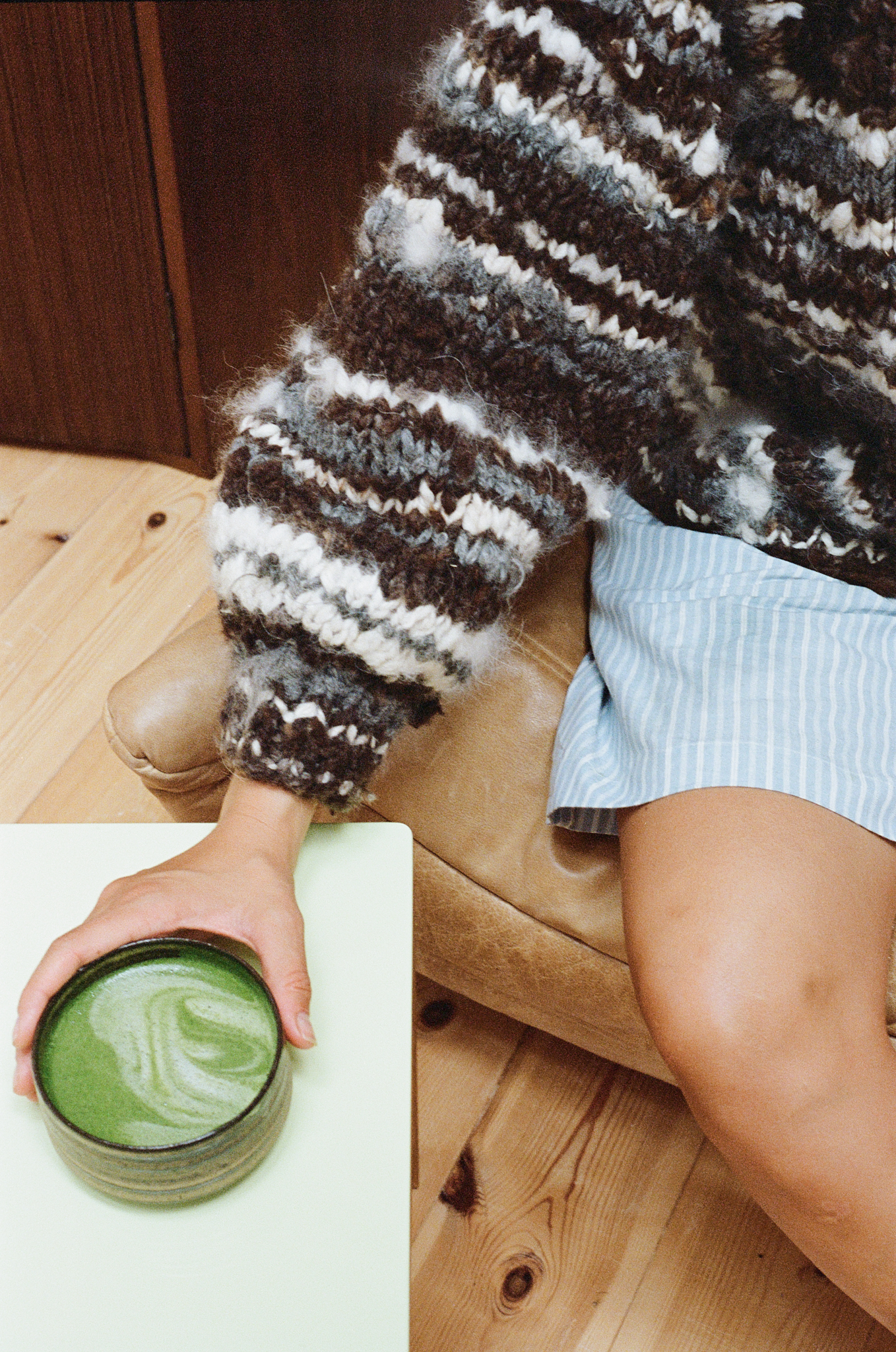 It was at that time I started to sew my own clothes, and of the remnants I made childrens´ clothes and gift bags instead of just throwing away these rests of textile.  
Now I know how long it takes to sew a jacket and how many processes you have to go through. 
I know that it is worth all the time it takes to repair things when you have spent your money on good quality products.   
Wearing Dagmar White Shirt, Rakel Knit Shorts and Svala Cashmere Jumper.
The Calm Countryside
After most of a year in Barcelona we found out that the house of our dreams in Thy in close proximity to Limfjorden was up for sale.  
A show of the house on FaceTime in Barcelona and a signature later, we were the owners of a beautiful red brick house from 1973. 
We often work from home, which means that it does not really matter whether it is from the North of Jutland, Copenhagen or Barcelona. 
Johanne wearing Vester Robe taking a daily ocean dip just outside her house.
We have always wanted to live close to nature and did not think twice before making up our minds.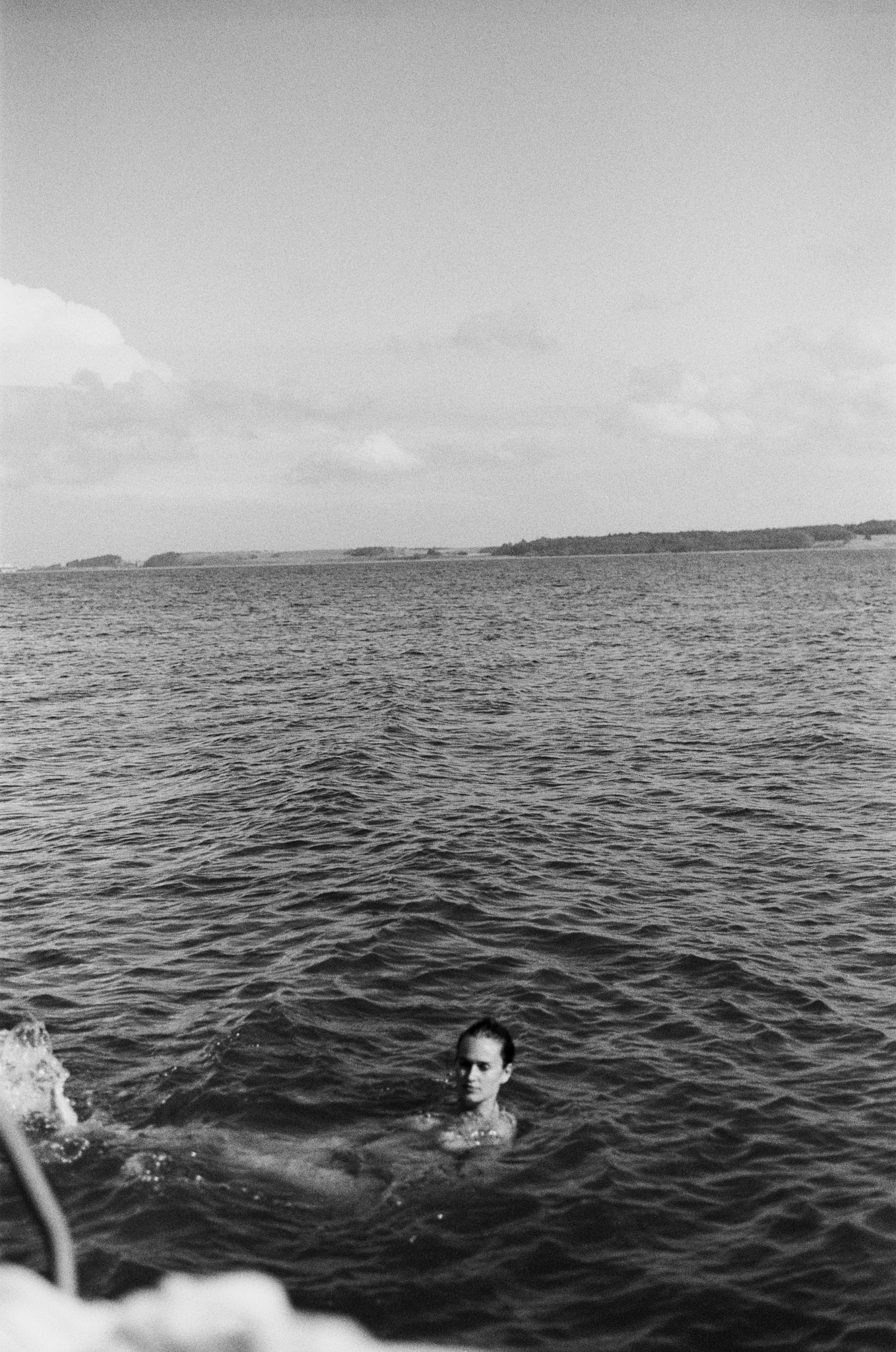 Before moving we did not know whether we could handle the change from the vibrant life of the city to a small local community far away from a big city. We also did not know whether we would be able to establish a social life or whether our everyday lifes would be fulfilling enough to feed our creative jobs. 
Now, one year after moving into our house I feel calm and at ease, and I often become conscious of a feeling of sheer joy. 
The pace of life here is slower, and knowing the contrasts of Barcelona and Copenhagen, I have realised that it gives me joy not to be surrounded by noise, stress, fast consumption and buildings.
I was convinced that I would miss the shops, the vibrant life and the inspiration of a big city. Yet, I surprise myself that I actually don´t.

Johanne wearing Edith Jumper, Noelle Quilted Jacket and Florence Trousers.
Valuable Choices
These days I spend time finding the right table or choosing the right tiles for our house, which is being renovated at the moment. 
Letting myself dive into the slow proces of choosing the right things for us is valuable to me. 
Quality and longevity is definitely a matter of making the right considerate choices from the beginning.       
Johanne wearing Ellen Cashmere Sweater, Iben Corduroy vest & Florence Trousers.
Johanne in her home wearing Ellinor Knit Tank Dress and Dagmar Stripe Shirt. 
Ellinor Knit Tank Top on the cabinet.
© Copyright 2021 Proem Parades
Photography by Lukas Fernandes